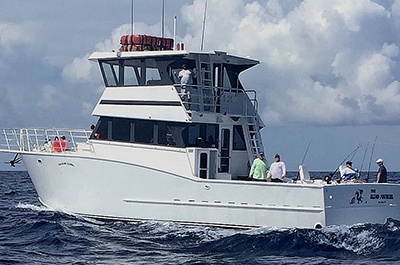 The Blind Squirrel is 63 feet custom David Carambat design with an over 20 foot beam. She has a cockpit the size of three normal sized sport fishers. Her unique design has a starboard side walk around so you can fish all the way up to the bow unobstructed. She has four heads, a large cabin with AC and a great view of the cockpit, two dinettes, full galley, refrigerator, microwave, cook top and even a coffee maker. She is licensed for 41 people for day trips and she can carry up to 12 people on overnight charters. Book a 1/2, day, 3/4 day, full day or a Dry Tortugas Fishing Charter.
Book NowBook Now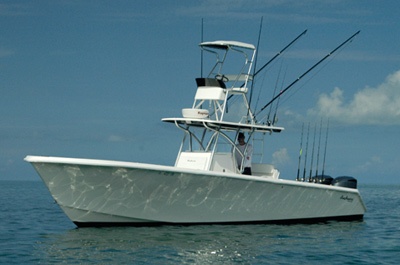 The Compass Rose is a Model 37 and almost 39 feet in length. She is an unusually wide beam boat for stability and more fishing room than other boats her size. She is powered with Giant twin V8 Yamaha 350 hp four stroke motors, giving her 700hp to run and get the job done. Not only is she fast but she rides like a dream. I have owned yellowfins, invincibles and many other center consoles and this boat blows them out of the water. The dry, smooth ride is just amazing. If you haven't heard of SeaHunter you will soon. The 10 foot plus beam on this boat adds a tremendous amount of room to the overall size of the boat and just makes fishing on this stable platform a blast. She can go in comfort when others simply sit at the dock.

If you notice the full tower with controls on this boat, it gives you a glimpse into this hard core fishing machine. She has full array of electronics from Raymarine twin e120 touch screens on the lower station and an E90wide on the tower to find the fish. Loaded with radar, 3 Vhf's, auto pilot and stereo she is equipped just the way I like it and need it to be, tournament ready at the drop of a hat. The oversized T-Top with the black underside offers a tremendous amount of shade and eliminates all glare off the water. The tower offers me a huge advantage of better sight lines for sight fishing and finding debris. If you have spent time on the water you know there is no substitute for height for seeing tailing fish. The other option on this boat is the 3 live wells carrying well over 250 gallons of live bait, more than any other light tackle boat in Key West. Down below decks she has a full head (toilet) for comfort and privacy. She is designed by fisherman for fisherman to be an ultimate fishing machine.
Book NowBook Now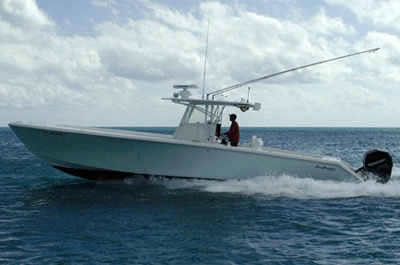 The Windy Day is a 40 SeaHunter, a Carbon and Kevlar hull made for performance and it's all about fishing. The overall length of the boat is 42 feet and with Triple 275 hp four stroke motors (825hp) she gets where she wants to go in a hurry. Make no mistake there is no substitute for size on the water. Although the hull design is an amazing running hull, the size and displacement makes her even more impressive and very stable in the water. Being 42 foot long she has all the room in the world for her 6 passengers for fishing. You'll never feel crowded on this fishing machine. She has the ride of the big offshore boats with the fishability of a center console.
The oversized T-top gives lots of shade including seating in the shade. The twin 60 gallon live wells enable us to carry more and different types live bait which quite often makes all the difference in a day of fishing. The Windy Day is equipped with Garmin GPS, Furuno fish finder, Furuno radar, Icom VHF, TR1 auto pilot and stereo. As you can see she is loaded to the hilt with top of the line electronics. The tackle is Shimano rods as well as custom rods, the reels are Finnor and Penn for all your fishing needs from 10lb test to 80lb tackle. She has a full private head (toilet) for your comfort. This boat is set up to fish anytime and anywhere in comfort and style. Come see why SeaHunter Boats is the boat to beat in the custom Center Console market.
Book NowBook Now